Dear Fellow Advocate,
Last year brought a number of breakthroughs and new beginnings in Justice Revival's quest to expand and deepen Christian commitment to human rights in the United States, even as we lamented modest legislative progress at home and grave new threats to justice abroad.
As our nation continued to feel the effects of the global COVID-19 pandemic, we successfully pivoted to provide innovative Christian education on justice and rights through a new, web-based event series. Through "The Heart of Human Rights: Faith-Fueled Advocacy on Issues of Our Day," we hosted leading faith and justice experts to address timely topics such as voting rights, policing reform, and gender equality under the law. Hundreds of faith advocates across the nation joined us for these unique educational programs and many reported immediate plans to take action in response.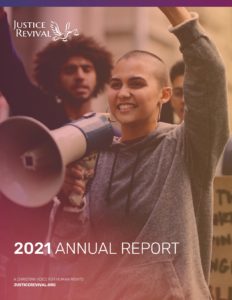 Through our expanding seminary education efforts, Justice Revival brought Christian insight on human rights to current and future faith leaders around the world, reaching an international audience through the Overseas Ministry Study Center and forging a new partnership with a Baptist seminary in Northern Virginia. 
Our 2021 programming included our first-ever event to honor Human Rights Day and Advent, with special guest Lisa Sharon Harper giving a resounding keynote address. The year also brought our first Texas-based lecture series. All events were held virtually, given the public health situation.
Perhaps our boldest step forward in 2021 was convening and launching the #Faith4ERA campaign, a growing interfaith movement for equal rights under the U.S. Constitution. Justice Revival has recruited a dozen organizational partners, garnered hundreds of faith leader signatures, advocated with key U.S. lawmakers, and taken to the media airwaves to call for recognition of the Equal Rights Amendment. We were honored to receive a note of commendation from one U.S. senator, and accolades from both sides of the aisle for our Policy Brief on the ERA.
In the face of sustained partisan division, we continued to renew our conviction that the image of God in each cherished individual must be respected. Violations around the world – from the military junta in Myanmar, to the civil war in Ethiopia, to the Taliban takeover of Afghanistan – remind us how urgent the cause of liberal democracy, rule of law, and universal human rights remain. As we pray for neighbors in each of these places, and now Ukraine, we sustain hope that America will live more fully into its promised ideals of freedom, equality, and justice for all – for the good of our citizens at home and the wider world.
We remain grateful and inspired by the many fellow sojourners who make up the Justice Revival community, now over 4,500 strong. Thank you for sharing this vision of upholding the inherent rights of all God's children, as a way to welcome a more just and peaceful future. Your presence and partnership remind us that God is indeed here in our collective midst, an active agent in the sacred struggle for justice.
In solidarity & faith,
Jennifer Gee
Board Chair
Allyson McKinney Timm
Founder & Executive Director