Full Inclusion, True Equality, Greater Justice
Sign the Interfaith Statement of Support for the ERA
Tell Your Senators: Support the Equal Rights Amendment
What Is the ERA?
The Equal Rights Amendment (ERA) is a constitutional amendment, passed by Congress in 1972 and ratified by 38 states or ¾ of states, which provides:
"Equality of rights under the law shall not be denied or abridged by the United States or by any state on account of sex."
It ensures equality under the law, which is a foundational principle of human rights. It would rectify the intentional exclusion of women from our nation's founding document. The vast majority of Americans support the ERA, and most believe we've already adopted it. The U.S. is one of only 18 nations worldwide that still lacks this type of provision.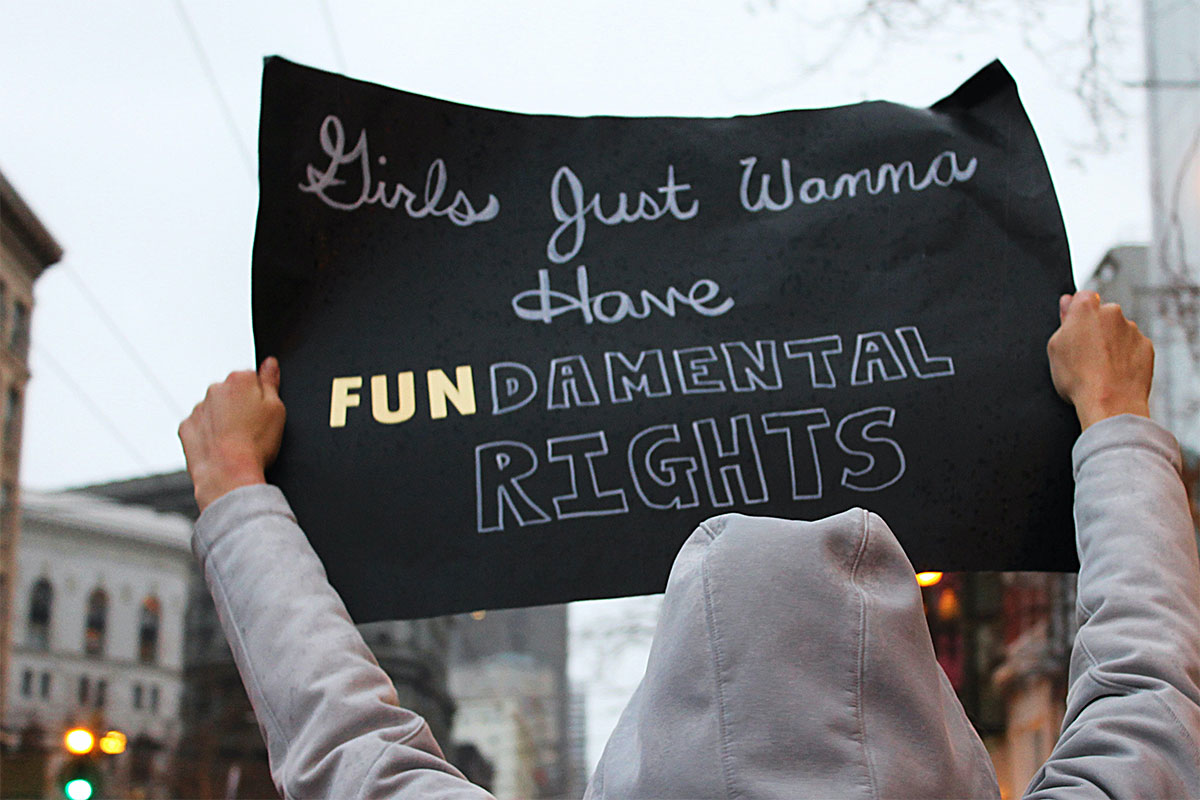 Inclusion, Equality, & Justice Are Christian Values Reflected in the ERA
Scripture reveals that all human beings are created in God's image and loved by God, endowing them with sacred dignity and worth.
God calls us, therefore, to treat our neighbor justly and fairly, to love our neighbor as ourselves. In Christ we learn the definition of neighbor has no bounds.
Throughout history, women have been judges, apostles, and witnesses to the resurrected Christ. They have been preachers and mystics, defenders and reformers of the Christian faith. God's special concern for the widow reminds us that justice must extend to women, too.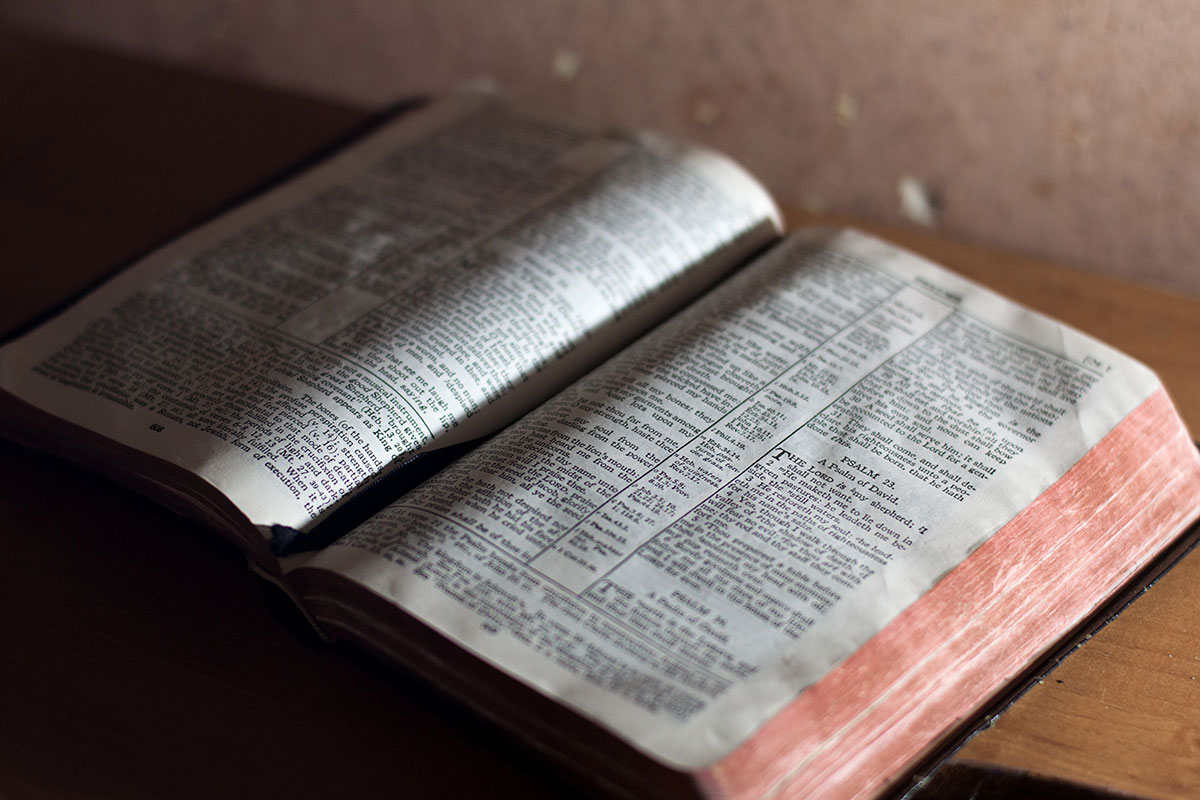 Women and all people, regardless of gender, deserve respect for their basic, inherent human rights, including equality under the law. We worship a Christ who welcomed women and took their concerns seriously; we cannot accept a constitution that excludes women or a system that denies anyone full equality.
"There is no longer Jew or Greek, there is no longer slave or free, there is no longer male and female; for all of you are one in Christ Jesus."
—Galatians 3:28
"You shall not be partial to the poor or defer to the great: with justice you shall judge your neighbor."
—Leviticus 19:15
"Learn to do good; seek justice, rescue the oppressed, defend the orphan, plead for the widow."
—Isaiah 1:17
U.S. Women Suffer Grave Injustice—And Our Current System Is Unable to Stop It
Did You Know?
The U.S. was recently rated "the 10th most dangerous place for women to live," based on a global survey of sexual and gender-based violence, human trafficking, economic disadvantage, and other problems of injustice.
Did You Know?
U.S. women face a one in three chance of intimate partner violence, similar odds of workplace sexual assault, and a one in five chance of experiencing rape or attempted rape in their lifetimes.
Did You Know?
A 2013 "State of the World's Mothers" Report ranked the U.S. last in the best 30 countries in the world to be a mother, based on maternal health, children's well-being, and educational, economic, and political status.
Did You Know?
"Pregnant women and new mothers are dying at alarming rates in the U.S." and maternal mortality has been "notoriously underreported." From 1990-2013, the U.S. saw a 1.7% increase in maternal mortality, in contrast to an average 3% decline in developed countries. 2018, maternal mortality among Black women was about 2.5 times higher than among White women.
Did You Know?
Full-time working women on average still only make 82 cents for every dollar made by their male counterparts. African-American women make 63 cents and Latina women only 55 cents on the dollar.
Did You Know?
Part of the Violence Against Women Act was struck down by the Supreme Court, which held Congress lacked a constitutional foundation for the legislation on sexual violence—a problem which over 650,000 women faced in 2019 alone. Approximately 1 in 5 women have reported completed or attempted rape in their lifetime, which is an estimated 25.5 million women.
The ERA Will Benefit Women, Parents, and Families
The ERA will enable Congress to pass laws addressing pervasive problems like intimate partner violence, workplace sexual harassment, and pregnancy and pay discrimination. It will provide a mandate for laws and policies that support mothers and all parents in combining paid work with family caregiving.
The ERA will also make it harder for the government to discriminate based on gender, applying the same standard that prohibits discrimination based on race or religion. The ERA will guard against discrimination based on pregnancy, childbearing, and parenthood, as well as gender.
In the U.S. and around the world, history has shown that when women's rights are protected, their children, their families, and all of society benefits.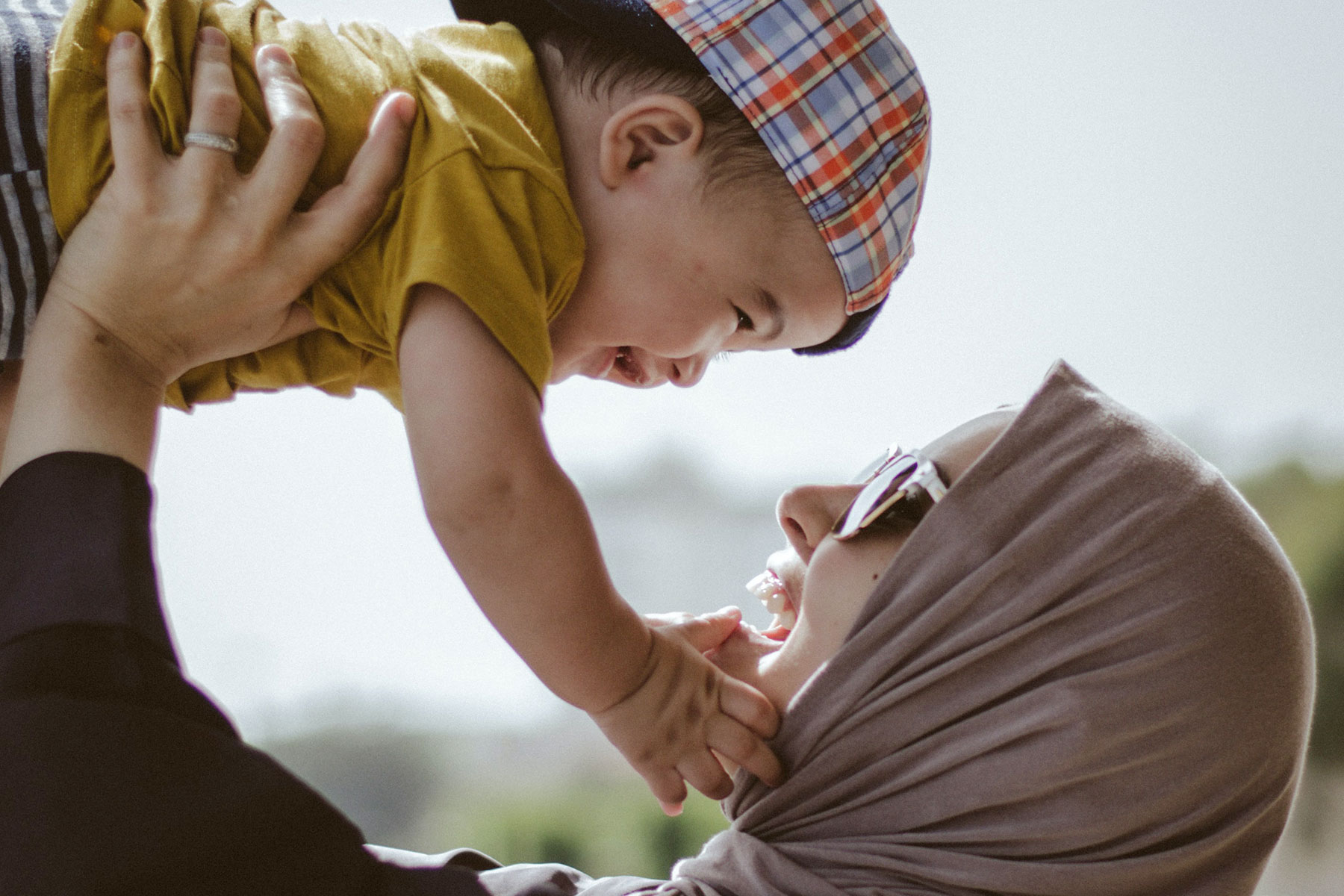 "Ending sexism and including women fully in every aspect of society not only ends its own great evil—the oppression of women—but also is part of the solution to the rest of the world's problems."
—The Most Reverend Desmond Tutu, Archbishop Emeritus of Capetown
"I urge all the people of the country to join me in correcting a basic defect in the American Constitution in providing equal rights for the women of our country."
—Jimmy Carter, Former U.S. President, Lifelong Baptist, Sunday School Teacher
The Interfaith Statement of Support
Justice Revival is working in partnership with faith leaders from diverse religious traditions across the country to call for recognition of the ERA as the 28th Amendment. The Interfaith Statement of Support for the ERA has already been signed by hundreds of Protestant, Catholic, and Evangelical leaders, as well as many from other faith traditions.
We invite all fellow faith leaders–of any tradition or leadership role, whether or not formally recognized–to sign on in support. Let's insist that our lawmakers ensure the ERA is fully integrated into the U.S. Constitution.
"The framers of the Constitution allowed themselves to be held captive to the powerful economic and cultural forces of their time. We must not be captive. Our generation must be the one to enshrine the ERA into our Constitution and continue the labor of birthing a more perfect union."
—Valarie Kaur, Founder, Revolutionary Love Project
"This is the 21st century. We know better than this. Women possess every bit of the image of God that men possess. We are equally human and our work is equally valuable. It is time for The U.S. Constitution to agree with God. It is time to pass the ERA."
– Lisa Sharon Harper, Founder & President, Freedom Road
"I am proud to join this coalition of faith leaders, many of whom I call friends and sisters in the faith, in this renewed call to ratify the ERA. This interfaith, multicultural coalition is shoulder to shoulder in our call for a Constitutional amendment that ensures the full dignity and equality of every person in this country..."
– Rev. Jennifer Butler, CEO, Faith in Public Life
"As Christians, we know that every person, regardless of sex, gender, race, ethnicity, ability, and sexual orientation, is made in the image of God and are all created equal by God. Our laws must uphold this truth, which is why it is so imperative to finally ratify the ERA."
– Adam Taylor, President, Sojourners
"I support the ERA because I believe in women, our power and our capacity to do good. Before our constitution was written or ratified, women—from Abigail Adams to Phillis Wheatley—were inspired to advocate for a greater role and voice for themselves in our nation..."
– Kate Kelly, Esq., Founder, Ordain Women & Author of "Ordinary Equality"
If you're new to the Equal Rights Amendment and eager to learn more about the promise this Amendment holds for full equality under the law in the United States, start by reviewing these helpful Frequently Asked Questions (FAQs).
You'll learn about how the ERA alligns with both human rights principles and Christian theology, andd what the ERA would (and would not) do. We even delve into some opposing opinions, and showcase through our legal expertise why the ERA is an Amendment that everyone can support.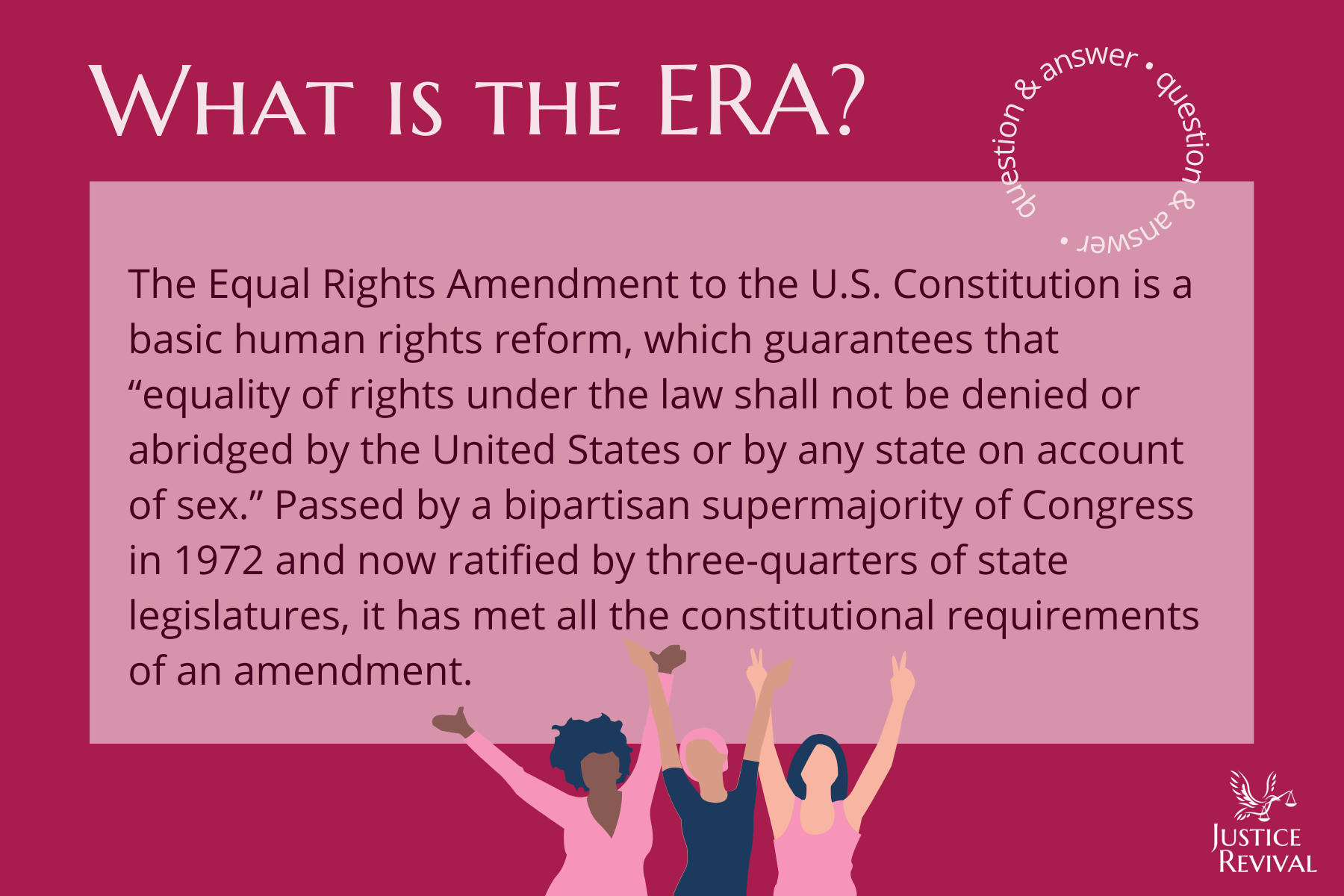 In this robustly sourced expert Policy Brief on the Equal Rights Amendment (ERA), Justice Revival makes the moral and legal case for the Amendment, explaining how the reform aligns with central Christian teachings and basic human rights principles.
The brief charts the ERA's promise in stemming widespread abuses against U.S. women and girls – including sexual and domestic violence, female genital mutilation, child marriage, pregnancy and pay discrimination, and human trafficking.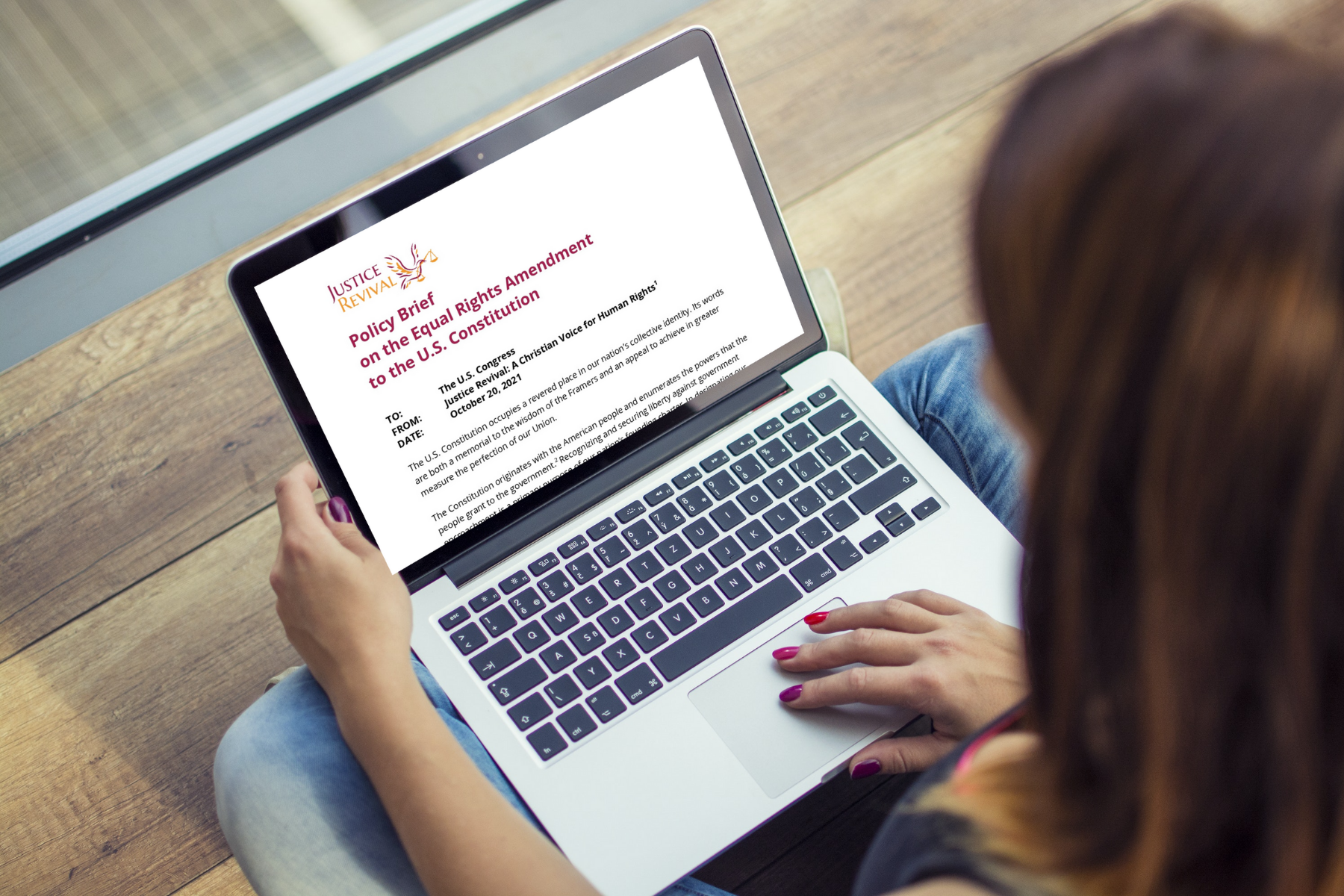 Articles
In the Name of Liberty For All, Basic Human Rights for Women Must Be Protected
The Columbus Dispatch
By Tarunjit Singh Butalia, Allyson McKinney Timm and Rev. Jack Sullivan, Jr.
July 6, 2021
Will the Equal Rights Amendment Threaten Religious Liberty?
Sojourners 
By Rose Marie Berger, by Allyson McKinney Timm Paola Fuentes Gleghorn
June 28, 2021
This Mother's Day, Let's Work to Change the Constitution
Sojourners 
By Paola Fuentes Gleghorn
May 6, 2021
If We are Equal Before God, We Must be Equal Before the State
Sojourners 
By Allyson McKinney Timm
March 18, 2021
Will the U.S. Finally Approve the ERA?
Sojourners 
By Paola Fuentes Gleghorn and Jeff Fuentes Gleghorn
January 2021
Justice Revival and Union Theological Seminary Stand with Coalition Pressing Case for Equal Rights
By Kimberley Gordy
July 7, 2020
From Tragedy to Triumph: Courageous Survivors and the Quest for Justice
By Allyson McKinney Timm
October 30, 2019
Interviews
Let's Talk About the Equal Rights Amendment!
With The New Evangelicals on Instagram Live
January 27, 2022
Kitchen Table Convo: The Equal Rights Amendment
With Lisa Sharon Harper on Instagram Live
May 7, 2021
The Equal Rights Amendment
Freedom Road Podcast
May 7, 2021
It's 2020 and the Equal Rights Amendment Still Hasn't Passed
Faith and Feminism
October 13, 2020
It's 2019: Why Are Women Still Not Protected by the U.S. Constitution?
Faith and Feminism
October 29, 2019